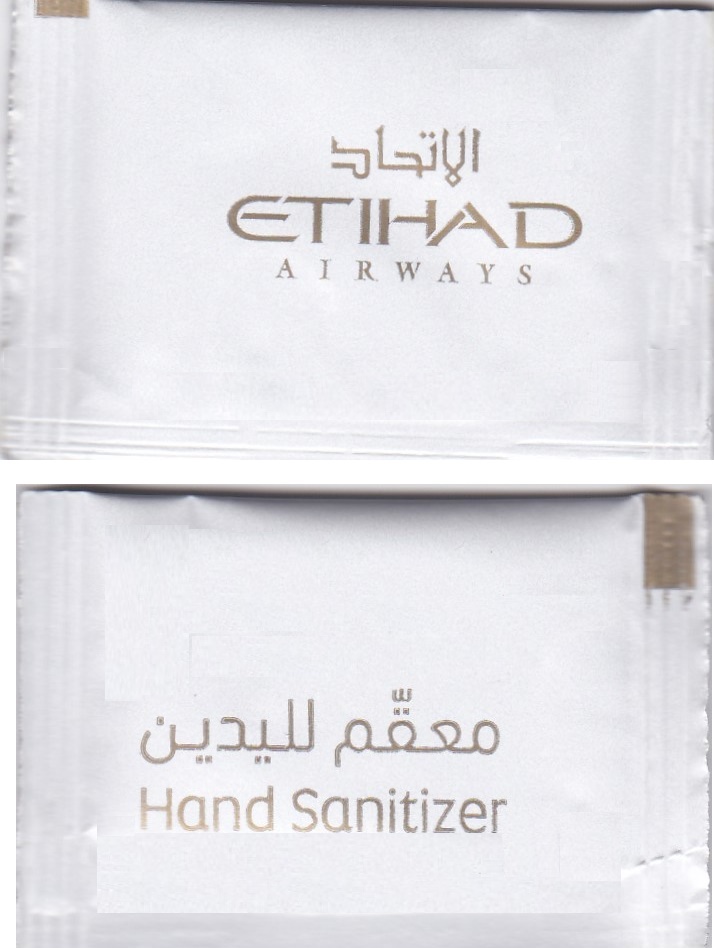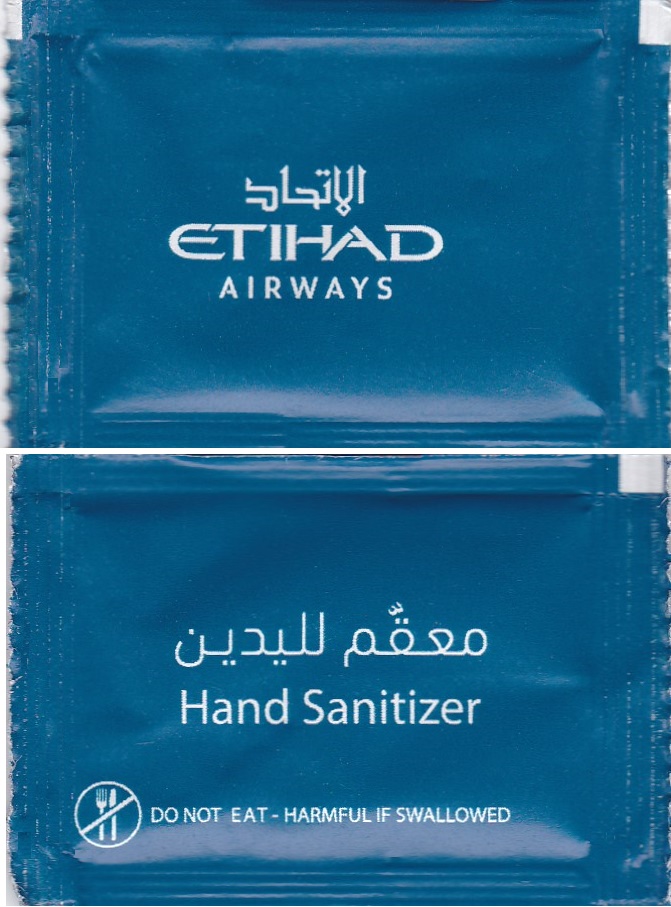 Etihad Airways passengers all over the world are refreshing themselves in the sky with our hand sanitizer sachets

Royal Jordanian passengers all over the world are refreshing themselves in the sky with our hand sanitizer sachets
Hand sanitizer sachets
Merchantivas customizes and manufactures hand sanitizer sachets for global distribution. We are the pioneering enterprise that has successfully incorporated the hand sanitizer into branded sachets.
Our hand sanitizer sachets are currently being used by millions of consumers around the world today as we supply some of the most reputable global brands with our hand sanitizer sachets that are branded with their name and logo.
General hand sanitizer facts
Hand sanitizers are also commonly referred to as hand gel, hand gel sanitizers, alcohol hand gel, hand cleaning gel, disinfectant hand gel, and antibacterial hand gel. They are the most effective commercially available consumer product that maintains personal hygiene, to the extent that the World Health Organisation recommends them as an important means of protection against germs, bacteria and even the Coronavirus.
This is because the hands are responsible for spreading the vast majority (80%) of all common infections between people according to the Centers for Disease Control and Prevention. Our hand sanitizer formula alleviates this significantly as a result of the following exceptional hygienic qualities:
Kills over 99% of bacteria; providing effective protection against Coronavirus, Ebola, Bird flu, E.Coli, and MRSA amongst many other notorious illnesses
Cleans the hands without the need for water, soap or a towel. The gel completely evaporates a few moments after it has been applied on the hands
Eliminates all adverse odours present on hands and leaves behind a pleasant fragrance. We give you the option of two beautifully soothing fragrances; papaya & grapefruit or eucalyptus
Gentle on hands even after repeated use as a result of specialised ingredients which counteract any dryness of skin









Hand sanitizer sachet benefit comparison
Hand sanitizer sachets


Bottles




Dispensers




Customization
Customize each item with a brand name and logo

Yes
We can place your brand name and logo on each sachet

No
Generic packaging only

No
Generic packaging only


Convenience
Practicality of the product to the consumer

High
Sachets are readily available and can be taken away by your customers

Medium
Portable, but bottles are large and heavy

Low
Consumer must go to location of installed dispenser

Commercial Opportunity
Extent to which adopting the product provides added value

High
Combination of customization and convenience provides many commercial opportunities
(see below)

Low
Very difficult to utilise for adding commercial value

Low
Very difficult to utilise for adding commercial value


Cost
Price of gel relative to its quantity

Inexpensive
The cost is spread over thousands of sachets making it relatively the cheapest option

Expensive
Price paid for each bottle relative to the volume of gel received

Expensive
Cost of installation and continual refill
Commercial opportunities
Marketing / branding
Hand sanitizer sachets provide an opportunity for you to adopt a unique marketing / branding medium that will not only differentiate you from your competitors, but will provide your customers with a hygienic product that will be appreciated, guaranteeing you great exposure. All the globally reputable brands that use our hand sanitizer sachets have received extensive positive feedback from their customers.
We use highly sophisticated software and machinery that prints your brand name & logo on each individual sachet to a high level of aesthetic quality. Simply provide an image of the brand name & logo you wish to have on each sachet, and we will do the rest.
Customer satisfaction
The recent Coronavirus and Ebola epidemics forced people to re-evaluate their hygienic practices. A result of this was their discovery of the hand sanitizer and its effectiveness in maintaining personal hygiene. However, despite the effectiveness of the hand sanitizer, there still remains a major flaw; accessibility. Dispensers are not always readily available for people to use, and bottles are not always convenient to carry around.
We believe hand sanitizer sachets solve this problem. Sachets are very small and compact, and are not limited to specific market scenarios. Because they can be utilised to benefit you in any context, they become accessible to everybody associated with your business. Due to the effectiveness of the hand sanitizer, these sachets will be used immediately for hygienic purposes and / or taken away for future use by consumers. Either way your business benefits; increased customer satisfaction as a result of providing an effective hygienic product, and a unique marketing / branding medium that provides great exposure.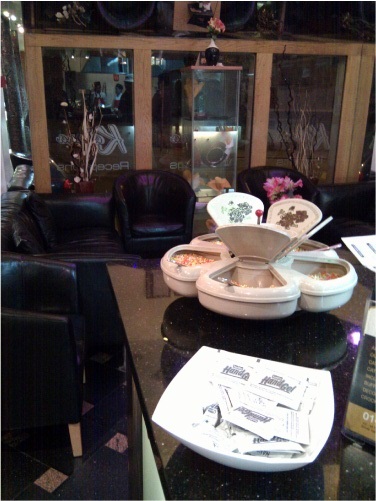 Customers at this award winning restaurant have really appreciated the hand sanitizer sachets
Hand sanitizer sachet market uses
Airlines
Your passengers are idle for a sustained period of time. Since toilet facilities are limited and are shared by everybody else on the plane, the opportunities for your passengers to refresh themselves are limited. Hand sanitizer sachets provide immediate refreshment as they clean their hands without the need for water, soap or a towel, and leave behind the beautifully soothing papaya & grapefruit or Eucalyptus fragrance, thus providing them with a more pleasant flight experience with your airline.
Our airline customers have made the hand sanitizer sachets available to all their passengers in their flights and lounges all over the world. The hand sanitizer sachets have been served to passengers before the meal service, during meal service as part of the cutlery / condiment pack, and within amenity kits in Business Class and First Class.
Restaurants / Fast food
Hand sanitizer sachets clean and fragrance the hands of your customers without them having to leave the table. Their experience of eating at your establishment will therefore improve. Your customers will also take some of your branded sachets away with them. When they later use them on themselves or others, the branded sachets will remind them of your establishment and not that of your competitors.
Hotels
Instead of relying solely upon shampoo bottles and soaps as a marketing reminder to your guests that all your competitors also give away, why not provide a more unique and memorable product to your guests. Hand sanitizer sachets will remind them of the experience they had at your hotel better than any of the other usual products, thus giving you a marketing advantage over your competitors.
Our hotel customers have made the hand sanitizer sachets available to all their guests at the hotel reception desk, within the hotel restaurants, within hotel rooms and amenity kits, and within conference meeting rooms.
Hospitals
Hand sanitizers are currently available in many hospitals within dispensers. This poses a problem to patients who cannot freely access the fixed location of these dispensers. Hand sanitizer sachets can be used to accommodate those patients this applies to, as sachets can be brought to them instead. This is important, as it will aid in the prevention of notorious hospital infections such as E.Coli and MRSA which are unfortunately still prevalent within many hospitals.
Marketing / Promotional activities
Your aim is to embed your brand within the minds of your audience through the use of giveaway items that typically include branded pens, toys and confectionary. Guess what; all of your competitors are using the exact same items for this purpose! Why not provide your audience with hand sanitizer sachets which are much more unique and memorable? Our research has shown that people keep hand sanitizer sachets with them for future use. Imagine the branding impact this will have on your audience.
Purchasing the hand sanitizer sachets
The hand sanitizer sachets are sold in boxes each containing 1,000 sachets. Each sachet contains 1.5ml of hand sanitizer. Box dimensions are 32.5cm x 23.5cm x 17.5cm. Each box weighs approximately 3.2 kg (gross) / 2.5 kg (net).
Purchasing the hand sanitizer sachets is done on a per box basis. The cost per box depends upon whether you opt for branded sachets or standard sachets.
Branded sachets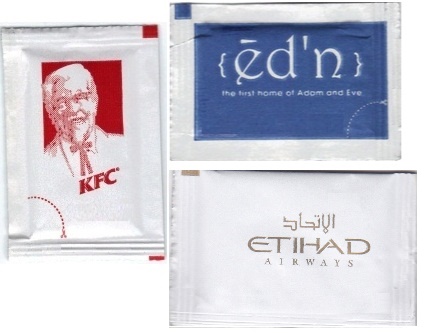 Standard sachets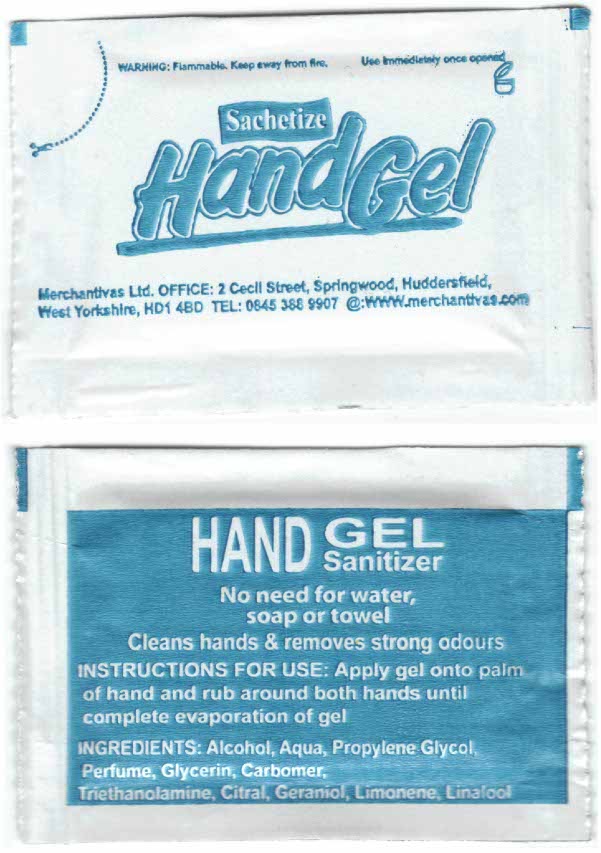 Cost per box (1,000 sachets)
$25.00 + shipping
Minimum order
Due to the specialised tooling machinery required for customization, a minimum order of 100 boxes (100,000 sachets) is necessary
Cost discount with orders over 500 boxes (500,000 sachets)*
*Complete the order form below and we will send you a draft quote for your desired quantity
Cost per box (1,000 sachets)
$23.00 + shipping
Cost discount with orders over 500 boxes (500,000 sachets)*
*Complete the order form below and we will send you a draft quote for your desired quantity